* Camellias in Galicia *
Camellias are native to China, Japan, Indo-China and the various islands neighbouring these countries.
During the Ming Dynasty camellias were honoured as the " most beautiful flower under the heavens ".
For centuries in Japan camellias have been an integral part of everyday life.
Tsu-ba-ki is the Japanese name of the " Camellia japonica " and sa-za-n-ka´s of the " Camellia sasanqua ". These two species are the origin of a lot of varieties and colours of camellias known in Europe today.
The name " camellia " was established for the swedish botanist Charles Linnaeaus in recognition of the work of George Josef Kamel. This jesuit botanist worked during years in Phillipines Islands. He died in Manila the year before Linnaeaus´s birth. His documents were published by Ray and Petiner using his latin name " Camellus ".

Eventhought, apparently, the camellias were brought to Europe from the Far East by Jesuit missionaries and by the Portuguese, Dutch and English traders. In the Iberian Peninsula they have been known since the XVIII century, probably since XVI or XVII in Portugal where there are some very old camellias still flourishing. In Galicia they begin to be recognized and mentioned in books or catalogues from the XIX century.
It´s difficult to verify where the first camellias originated thet came to Galicia, but old plants can be found adorning some Pazos (galician mansion) gardens such as Figueroa, Torre da Lama, Sta. Cruz de Rivadulla or Oca, where a beautiful "camellia reticulata" specimen is found with a height of 15 meters and is considered one of the oldest european camellias. Probably they were brought to Galicia from other european countries, and even other spanish regions, since there is written evidence that in a Valencia gardening shop, in the middle of the XIX, offered this kinds of plants.
At Rías Bajas they probably arrived from Portugal, most likely from the gardening shop founded by Jose Marques de Loureiro on 1849.
There aren´t many references of Galician camellias by Galician authors such as Rosalía de Castro, Eduardo Pondal or Curros Enríquez. Pardo Bazan and more recently Cunqueiro, Ruibal and Lorca have some references to these flowers.
The family of camellias have about two hundred species of the which two dominate today´s varieties : "camellia reticulata" and "camellia japonica" mother of a lot of the types nowadays. In Galicia the "camellia japonica" abounds, and somewhat less the "camellia sansaqua" and "camellia reticulata". All of them are either tree or shrub types with perenne leaves, having a glossy opposite side. The "camellia saluenensis" and the "camellia oleifera" and others species that are important for forming hybrid camellias aren´t well known in Galicia.
Only fifty types of camellias have any fragancy, being so delicate in some that the smell must be sensed with special attention.
" Camellia sinensis " has small flowers and soft leaves, and in many countries it´s leaves are cultivated for tea . One chinesse manuscript mentions the use of "kutu" (tea) as medicine during the Shang dinasty ( 2.700 b.c.)
Camellia japonica is a tree that can grow about 8 meters and has odourless flowers. Some gardeners have been able to change stamens into petals creating very beautiful flowers. The specimens without stamens do not produce seeds while the "simple" known in Galicia as "brave" is able to produce some capsules when ripening and emit seeds.
According the number and position of the petals, the flowers are clasified as, single, semidouble, anemone, peonia, rose form , and double, being the last one being the most popular kind, event hought all the types have beautiful flowers.
"Camellia sansaqua" is smaller than the "camellia japonica" has small leaves, simple and fragant flowers, and they start to blossom during the Autumn. The etimologic of the word "sansaqua" is consider to be a phonic variation of the chinese words that mean "Manta Tea Flower", used from the old times for fragant tea.
"Camellia reticulata" is smaller than the "japonica" and has beautiful large flowers and waved petals.
Camellia plants require moist soil, good drainage no direct sunlight, and temperatures not too cold or warm, all of these conditions exist in Galicia, specially in the Rías Bajas. Nowadays these plants are well known in Galicia and very popular, and every year in Vigo, Vilagarcía de Arousa or Pontevedra there is an International Camellia Exposition, where the differents kinds of camellias plants are exhibited.
I try to show camellias in these pictures as I have see them, but the colour of the flower can change according the soil composition, plant position, sun or shade, quality of the photographic equipment, etc....
I hope with these pages to demonstrate some of the beauty of these flowers.

" Camellias in Galicia " shows the camellia photographs taken in different parts of Galicia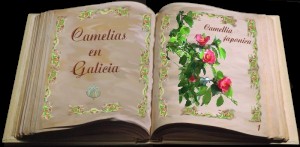 NOTE: Under no circunstances may any of these images be used without the permission of the owner.